Storm Damage Restoration Experts Proudly Serving Charlotte, NC, Homeowners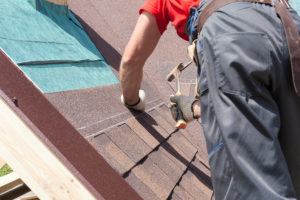 Sifting through the countless storm damage restoration contractors in the Charlotte, North Carolina, area is the last thing you should have to do after your home has incurred damage due to a storm. No matter if the damage is because of wind, hail, or any of Mother Nature's other curveballs, you can count on the professionals at Merritt Roofing for prompt, worry-free service that will mend both your home and your confidence in it.
Our Storm Damage Repair Solutions
At Merritt Roofing, we are a one-stop shop for Charlotte homeowners' roofing needs in the aftermath of a storm. You can rely on us for storm damage restoration if your home has fallen victim to:
Hail damage – Since damage due to a hailstorm is rarely evident from the ground, our team will conduct a thorough on-roof inspection to identify any bruised shingles that may lead to leaks.
Wind damage – Unfortunately, Charlotte homeowners are all too familiar with hurricane-like winds. Thankfully, our hand-picked craftsmen will walk your roof and provide appropriate solutions for any creased shingles or torn roof tabs that may have been caused by this wind or other exposure to the elements.
Tree damage – Strong winds can oftentimes lead to loose debris falling on your roof. When this happens, our team can quickly assess for scuffed or penetrated shingles and provide a suitable remedy.
Get Started Today
If you have even the slightest of concerns when it comes to the condition of your roof after a storm, don't hesitate to call Merritt Roofing—after all, you never know when Mother Nature will strike next. Contact us today to schedule a time for a roof inspection at your home in Charlotte, NC, where we'll assess your roof and determine which of our storm damage restoration solutions are warranted.