Roof Repair in the Charlotte, NC & Fort Mill, SC, Areas
Fixing Even the Most Difficult Roof Issues in Mecklenburg, York, Union & Lancaster Counties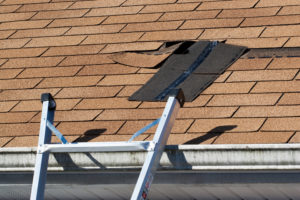 The roof of your home keeps you, your family, and belongings safe and dry. When it has sprung a leak or has caved in, a roof repair is imperative. Merritt Roofing is Charlotte's leading roofing company when it comes to expert roof repair. Since 2009, we've successfully fixed virtually all types of roof damage, from leaks and moisture to flashing, punctures, and everything in between. Our roofing repair experts are ready to provide you with reliable repairs as well.
All our roofing work starts with a comprehensive inspection and a free estimate. Call us at (800) 235-3054 to schedule an appointment for your Charlotte roofing repair service.
Signs You Need Roof Repair
Not all roof damages are easy to spot like missing shingles or visible holes. Because access to your roof is difficult, most roof problems stay undetected for a long time, resulting in major damages and shortening the lifespan of your roof. Leaks, in particular, can start pooling slowly on your roof without you noticing until they find an opening and leak through the inside of your home. Fortunately, there are some indicators that can help tell you when to call for professional roof repair in Fort Mill, Charlotte, and beyond.
Common Roof Problems To Be On The Lookout For:
Weathering – Roof material will deteriorate with the direct exposure to severe weather. Inorganic roofing materials are usually much less susceptible than ​organic materials. When a roof is exposed to any pollutants this will likely speed up the decay of your roofing material.
Lack of Maintenance – This is most often found with flat or low-sloped roofs. If this isn't corrected an uneven roof will cause an accumulation of sediments and water that will eventually cause your roof material to rot or decay.
Roofing Design – Design related problems are often expensive to correct, and normally the corrections should be accomplished while the replacement of the roofing material is happening. An example of a design problem is a sloped roof that doesn't have adequate drainage systems.
Wind – The pressure created by wind, blowing over the roof, can sometimes rip up some of the roofing. The roofing and insulation must be fastened to the perimeter of the roof. In order for the main roof to counteract the wind, this is an important step that you don't want to overlook.
The Signs Of Roof Damage Include:
Water stains on the ceiling
Peeling or bubbling paint on the ceiling or walls
Signs of moisture in the attic or crawlspace such as mold, mildew, or pooling water
Presence of critters and insects on your roof, gutters, or the attic
Black stains on the roof
If you've noticed any of the above mentioned signs, don't wait—contact our Charlotte roofers right away. We offer quick response times for roof leak detection and repair services and are equipped to handle even the most complex damage.
Get a Free Quote Today On Your Charlotte Roof Repair
As your trusted roof expert, our Charlotte roofing repair team is dedicated to making sure you have a strong, durable roof over your head. In addition to providing superior roof repair, we also leave customers with exceptional roofing experience. Our team always arrives on time, conducts an inspection prior to any work, provides free, detailed, estimates, and cleans up after the job. We also do our work with the utmost professionalism and accountability, which means if something goes wrong with our service, we will do everything we can to make it right.
Get in touch with us today at (800) 235-3054 or online to request roof repair in Charlotte.