Asphalt Shingles Installation for Homeowners in Charlotte, NC & Fort Mill, SC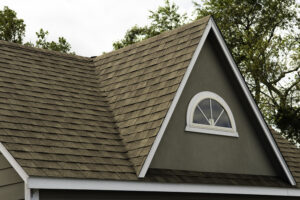 Asphalt shingle roofs are the most common type of roof seen in the U.S. because they are affordable and easily installed. But to ensure a long-lasting, attractive roof, asphalt shingles installation must be performed properly by an experienced roofing contractor. Luckily, for homeowners in Charlotte, North Carolina, and Fort Mill, South Carolina, Merritt Roofing makes asphalt roof replacement easy.
Our Roof Shingles
At Merritt Roofing, we install the following types of asphalt composite shingles from one of America's most trusted manufacturers, Owens Corning:
Oakridge® shingles – These architectural shingles are available in a variety of warm, attractive colors with impressive wind and algae resistance.
TruDefinition® Duration® shingles – Featuring dramatic color contrast and dimension, our Duration shingles are formulated to enhance the aesthetic appeal of your home. Plus, these shingles offer unmatched gripping power thanks to a unique design that includes SureNail® Technology.
In addition, we are an Owens Corning Platinum Preferred Contractor, which means we've met the manufacturer's rigorous standards for reliability, professionalism, and craftsmanship. We'll ensure your asphalt shingles installation project is completed properly and efficiently.
Storm Damage Restoration
If you need a roof replacement because your roof was damaged by severe weather, we can help. At Merritt Roofing, our storm damage restoration experts can determine whether your old roof needs to be removed and an asphalt shingles installation project completed at your home or if roof repairs would suffice. In any case, our team will inspect your roof and recommend the best solution for your needs. In addition, we can assist you with the insurance claims process.
Let's Get Started
Whether your roof has reached the end of its useful life or has been damaged by a storm, Merritt Roofing has the solution. Contact us today to learn more about an asphalt shingles installation. We're the shingle roof contractor you can trust to get the job done!