Wind & Storm Damage Restoration for Homes From Fort Mill, SC, to Charlotte, NC & All Nearby Areas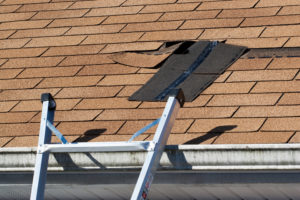 In North Carolina and South Carolina, the threat of roof damage due to strong winds and severe weather is ever present. Whether your roof has sustained major damage, such as a puncture from a tree branch, or a wind gust has blown a few shingles loose, it's important to have the problem addressed quickly. Any delay may allow your roof to leak, causing the problem to become more widespread and costly to repair. Fortunately, you've found the region's most trusted wind and storm damage restoration company. With locations in Fort Mill, South Carolina, and Charlotte, North Carolina, we have extensive experience addressing roof damage throughout the region and are ideally situated to provide our customers with prompt solutions.
Our Wind & Storm Damage Restoration Process
At Merritt Roofing, we understand that dealing with storm damage can be stressful. Rest assured, we'll make the roof restoration process as seamless as possible. Contact us as soon as you've noticed any sign of damage, and we'll quickly send an experienced professional to perform a comprehensive roof inspection. We are extremely thorough during the inspection process, and we'll provide you with an honest assessment of our findings along with our recommendation. If we determine an insurance claim is warranted, you won't be alone in the claims process. One of our experts will meet with your insurance adjuster at your home, ensuring all damage is identified and that you receive a fair payout.
The wind and storm damage restoration specialists at Merritt Roofing are determined to provide you with an exceptional value for your roof replacement or repair. For example, if your roof needs to be replaced, we'll install a premium system from the trusted brand Owens Corning. We typically install Oakridge® or TruDefinition® Duration® architectural asphalt shingles because they provide unrivaled protection and performance in the regional climate. And, they are available in a wide array of attractive styles and colors to enhance your home's curb appeal. Best of all, your only cost for a beautiful updated roof will be the insurance deductible.
Take the Next Step
As an Owens Corning Platinum Preferred Contractor, Merritt Roofing has a proven commitment to upholding the highest standards of workmanship and professionalism. So, if your roof has been damaged in a recent storm, don't delay. Contact the premier wind and storm damage restoration company serving Fort Mill, SC, Charlotte, NC, and all nearby areas.