Gutter Services in the Charlotte, NC & Fort Mill, SC, Areas
Quality Roofing Services in Mecklenburg, York, Union & Lancaster Counties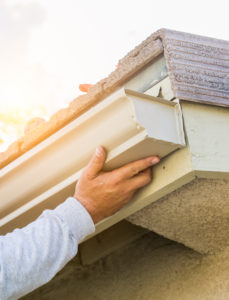 Gutters are responsible for diverting water off your home, protecting it from severe water damage. When a home's gutters are clogged with debris or broken, the consequences can range from basement flooding to erosion. Homes without gutters may also suffer from a weakening foundation as any amount of water that lands on the roof will only run down the side of the house. This is why gutters are such an essential part of a roofing system. Whether your home doesn't have gutters or your existing ones are damaged, let Merritt Roofing help you. We bring with us over a decade of experience providing gutter services in Charlotte and the surrounding areas.
Our list of services includes:
Gutter repair
Gutter replacement and installation
Gutter maintenance
Gutter guard installation
To request service, contact us at (800) 235-3054 or online. Free estimates are available!
Servicing All Types of Gutters
At Merritt Roofing, we will handle any gutter problem you face. From a clogged or leaking gutter to disconnected joints or even an improper slope, these are all gutter services we we provide. In addition to gutters, we also service & fix downspouts, fascia brackets, and other parts of your gutter system. The average lifespan of gutters is 20 to 30 years, but if yours have been severely damaged, our Charlotte gutter experts are here to help you with the replacement.
We provide high-quality installation of all types of gutters and materials, including:
K-style gutters –
With K-style gutters, you will notice they will have a flat bottom and a flat back. The front will typically have a decorative styling that mimics crown molding.
Half-round gutters –
These gutters are exactly what their name suggests. Think of a tube that has been cut in half from the top to the bottom of the tube. This half round tube style gutter is often found on older or historic homes.
Aluminum gutters –
With aluminum gutters, you are getting an affordable and versatile type of gutter. It's rust resistant and very easy to use to make into any shape, including the K-style and the half round gutters.
Stainless steel gutters –
Steel gutters will withstand the test of time. If you are using galvanized steel, that will make them rust resistant. Steel has the strength of copper as well as cast iron gutters but is much more customizable.
Copper gutters –
Copper is long lasting and rustproof. With gutters that are made of copper, you know you're getting heavy duty material that will last a long time at the same time copper isn't a very versatile material. It will need to be welded to ensure that the installation is done properly and it can also not be painted.
Zinc gutters –
Zinc is very similar to steel as it will last a very long time. They'll last longer than aluminum, but it's more expensive and just as cumbersome as steel or copper.
Call Now for a Free Quote
Merritt Roofing always does our work with the utmost professionalism and accountability. We understand the importance of having high-quality gutters, so you can rest easy knowing we will perform any gutter service the right way.
Get started with a free, in-person estimate! Contact us at (800) 235-3054 or online to schedule an appointment for gutter services in Charlotte.