Hail Damage Roof Repair Services Available to Homeowners in Charlotte, NC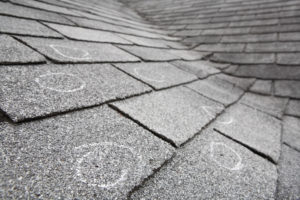 Although they tend to be isolated occurrences in North Carolina, hailstorms can have a devastating impact on a home, especially its roof, causing shingles to bruise and leaks to spring. In the event your home is left in shambles because of a hailstorm, be sure to call the licensed professionals at Merritt Roofing. We're the premier provider of hail damage roof repair in the Charlotte area, and you can count on us to get your roof looking good as new once again.
Our In-Depth Hail Damage Roof Repair Process
At Merritt Roofing, we put our 10-plus years of hail damage roof repair experience to work for all of our customers. Our process begins with a thorough inspection of the roof, where we'll identify all points of damage, present you a report with our findings, and help you in determining if an insurance claim is warranted.
In more instances than not, a roof with hail damage requires a full-scale replacement. If that happens to be the case with your roof, our team of factory-trained and -certified technicians will carry out your roof replacement using only best-in-class materials from top roofing brands like Owens Corning. This ensures your new roof will be built to last for well into the future.
Discover More About Our Hail Damage Roof Repair Solutions
Whether the damage to your roof is barely noticeable or has it holding on by a thread, don't let another moment go by without contacting Merritt Roofing. As an Owens Corning Platinum Preferred Contractor—a title only given to roofing contractors that have the most sparkling of track records—you can rest assured our hail damage roof repair services are just what you need to get your Charlotte, NC, home back on track.