Your Source for Storm Damage Restoration in Rock Hill, SC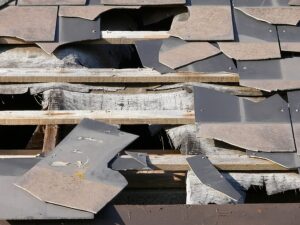 Merritt Roofing is here when you need us for storm damage restoration services in Rock Hill, South Carolina. A harsh storm, high winds, or hailstorm can hit at any point, leaving your roof worse for wear. At Merritt Roofing, we offer storm and wind damage repair services. You can rely on us to ensure you have a safe and reliable roof over your head once more.
Types of Storm Damage Restoration We Offer
No two storm damage restoration projects are the same, so it requires skilled and experienced roofing technicians to ensure your roof is properly restored. At Merritt Roofing, our roofing contractors are experienced in the following types of storm damage restoration services:
Wind damage repair – Even in the absence of a storm, high winds can do a number on your roof. Asphalt shingles may be ripped off or stripped of their protective granules. We can look for these and other signs of damage to determine the best way to restore or replace your roofing system.
Hail damage roof repair – The impact from hail on your roof can leave your roofing system battered and damaged. This damage is not always obvious to the naked eye, requiring specialized skills to identify and address the hail damage.
Other roof repairs – Sometimes, storm damage is much more obvious. This may include a tree or large branch that's fallen on your roof or a leak you've discovered inside the house. You can rely on Merritt Roofing to handle these roofing problems for you as well.
If you're in need of storm damage restoration services for the roof on your Rock Hill, SC, home, contact Merritt Roofing today.