We Can Install Top-of-the-Line Asphalt Shingles On Your Lake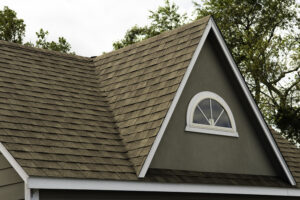 Wylie, SC, Roof
Your roof is one aspect of your home you probably shouldn't cut corners on, as doing so can have you paying for repairs—or even a replacement—in the not-too-distant future. If your roof is in need of attention, do what so many Lake Wylie, South Carolina, homeowners have done and choose Merritt Roofing to install premium asphalt shingles.
Two Options You Can't Go Wrong With
At Merritt Roofing, we believe cheap products produce cheap results, which is why we've taken the high road and partnered with industry-leading manufacturer Owens Corning for our roofing shingles. We'll be happy to use either of the following lines of asphalt shingles from this esteemed manufacturer for your roofing needs:
Oakridge® Shingles
Make the threat of algae growth a thing of the past thanks to proprietary StreakGuard™, which infuses copper-lined granules with colorful granules to prevent blue-green algae growth. Additionally, these asphalt shingles feature a double layer in the nailing zone for an enhanced grip.
TruDefinition® Duration® Shingles
Built with SureNail® Technology, these TruDefinition® Duration® asphalt shingles afford homeowners unmatched Triple Layer Protection in the nailing zone, offering wind resistance like no other.
Worry-Free Installation
The Merritt Roofing team is an Owens Corning Platinum Preferred Contractor. That means you can place your complete confidence in us to install our asphalt shingles with the utmost craftsmanship while delivering stellar professionalism along the way.
Would you like more information on why our asphalt shingles are the ideal choice for the roof of your Lake Wylie, SC, home? Contact Merritt Roofing today to set up a time for a complimentary consultation.