The Preferred Local Roofing Contractor of Homeowners in Lake Wylie, SC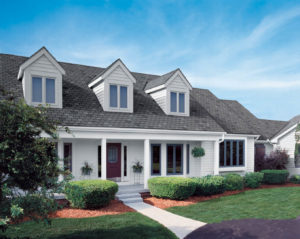 There are countless local roofing contractors in the Lake Wylie, South Carolina, area. So, what separates Merritt Roofing from the rest of the pack? Our knowledgeable team takes a professional approach no matter what type of roofing project is presented to them and maintains open communication with each and every customer throughout the entire restoration process.
Our Restorative Roof Solutions
Part of what makes us the best local roofer in the area is the extensive list of services we've made available, including:
Roof Replacement & Repair
As the go-to local roofing contractor, Merritt Roofing offers both full roof replacements and repairs. To begin, we'll provide you with a thorough inspection where we will identify areas of your roof that show signs of wear or damage, such as:
Leaks
Curled or cracked shingles
Mold and mildew
Other common causes of roof damage
Afterward, we'll provide you with an honest report outlining all of our findings and only offer solutions that will properly address the damage to your roof.
Storm Damage Roof Repair
In South Carolina, damage incurred by your roof due to strong winds or a severe hailstorm is not uncommon. Merritt Roofing will respond quickly and with the necessary equipment to address the damage to your roof, allowing you to feel safe in your own home once again.
Gutters
Whether your home is currently without gutters or your current gutters aren't operating as they should, we'll make sure your home is fitted with one of our top-of-the-line gutters so water is safely redirected away from your home.
The Local Contractor for All of Your Roofing Needs
If you're ready to work with a local roofing contractor that won't give you the run-around and will do exactly what they say they will do, call Merritt Roofing. Contact us today to learn more about how we help residents in Lake Wylie, SC, with all of their roofing needs.