Count on Us for Wind Damage Repairs That Will Restore Your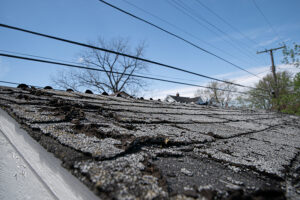 Marvin, NC, Home
Did the strong winds of a recent coastal storm have you concerned over the condition of your home's roof? You could climb your shaky ladder and try to spot signs of damage yourself. However, not all wind damage is evident to the untrained eye. It's best to rely on a trained professional to identify all indications of damage and to provide an appropriate course of action. In Marvin, North Carolina, Merritt Roofing is the name local homeowners trust. We've been providing top-quality wind damage repairs to residents of the area for over ten years, and we'd love to do the same for you.
Signs Wind Damage on a Roof
When you partner with us for wind damage repairs, the first thing we'll do when we arrive on site is to conduct a thorough roof inspection. We are a HAAG Certified Inspector—a title given to those who've shown an ability to locate even the slightest signs of roof damage. Some of the signs of wind damage we'll look for during this inspection include:
Broken or damaged shingles
Missing shingles
Shingles that have lost granulation
Once we've reviewed our findings, we'll make recommendations as to which wind damage repairs are required to fully restore your roof to pre-storm condition. Then, we'll repair the wind damage to your roof using one of our two high-quality roofing systems from Owens Corning—Oakridge® shingles or TruDefinition® Duration® shingles. What's more, Merritt Roofing is an Owens Corning Platinum Preferred Contractor, which signifies to our customers that we hold ourselves to the most stringent standards for craftsmanship and professionalism.
Contact Merritt Roofing today to schedule a complimentary roof inspection at your home in Marvin, NC, and learn more about the wind damage repairs we perform.