Storm Damage Restoration Services That Put Fort Mill, SC, Homeowners at Ease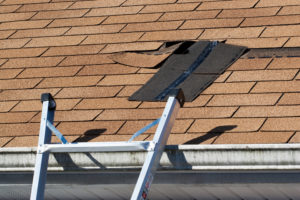 The moments immediately following a severe storm can be some of the most frightful ones for a homeowner. Scanning your roof and taking in all of the damage it has incurred can bring about feelings of anxiety and defeat. Luckily there is a local name you can call on to restore your home back to glory—Merritt Roofing. Since 2009, Fort Mill, South Carolina, residents have turned to us for storm damage restoration and an unparalleled customer experience.
The Types of Storm Damage We Repair
At Merritt Roofing, our storm damage restoration services address:
Hail damage – Although rarely noticeable from the ground, a strong enough hailstorm can wreak havoc on a roof. And failing to repair damaged shingles can lead to more severe problems down the road.
Wind damage – South Carolina is notorious for hurricane-like winds. As part of our wind damage repair process, our roofers will walk your roof, meticulously scanning for missing and creased shingles as well as torn roofing tabs.
Tree damage – During a storm, it's not uncommon for broken tree limbs and other debris to fall on a roof. These trees can scuff and even penetrate the shingles, which can result in leaks if not addressed immediately.
No matter what kind of damage your Fort Mill home has incurred, you can count on Merritt Roofing to respond promptly, perform a thorough inspection of your roof, and provide the appropriate solutions to get you feeling safe in your home once again.
Let's Restore Together
With Merritt Roofing as your neighborly roofing company, you don't have to navigate the devastation left after a storm by yourself. Contact us immediately after the storm passes and put our storm damage restoration services to work for you. We'll get you back to living life as normal at your Fort Mill, SC, home.