Common Signs Your Roof Has Storm Damage
Feb 05, 2021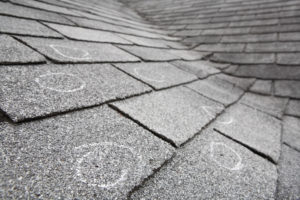 Your home's roofing system is its first and most important line of defense against the elements, which also makes it the most susceptible to storm damage. In the Carolinas, we experience everything from strong winds to hailstorms which can compromise even brand-new roofing systems. Indeed, the first thing you should do following a storm is step outside and survey your roof for signs of damage. Catching potential problems early can prevent them from spreading and becoming more costly to repair.
The following are some of the most common signs that your roof has storm damage:
Wind Damage
The most common sign of wind damage is missing shingles. Cracked and peeling shingles are vulnerable to blow offs during a storm and can leave your home vulnerable to water infiltration. Additionally, you should keep an eye out for excessive granule loss. While some granule loss is common—especially with newer roofs—deep horizontal lines can be an indication that the shingle's seal was broken. Of course, any sign of water damage, such as spots on your ceilings, are also cause for concern and should be addressed immediately.
In most cases, you can identify signs of wind damage from the ground. However, if you find lots of windblown debris in the area following a strong storm, it likely means that your roof sustained at least one impact. In these cases, it's best to perform a closer inspection or hire a professional to do so.
Hail Damage
Hail damage to roofs is often obvious, as it will leave visibly cracked and broken shingles. However, sometimes the damage is more subtle. For example, you may notice damage to surrounding or supporting structures, such as your gutters, fascia, flashing, or vents. In these cases, it's best to have a professional perform a comprehensive roof inspection, even if your shingles appear unaffected.
What to Do When You Notice Storm Damage
The first step you should take after you find storm damage to your roof is to contact a reputable roof restoration contractor to perform a thorough inspection. A contractor should be able to provide you with a detailed report on your roof's condition and help you determine if an insurance claim is required. The best roofing companies should be able to help guide you through the process, working on your behalf to ensure you receive a fair payout.
With locations in Fort Mill, SC, and Charlotte, NC, Merritt Roofing is the area's most trusted storm restoration company, providing seamless repair and replacement solutions. If you notice any of the common signs that your roof has storm damage, contact us right away to schedule your inspection.