Performing Full-Scale Roof Replacements in Waxhaw, NC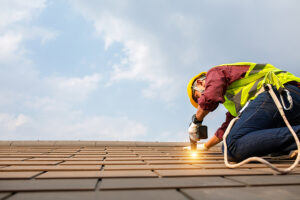 Dealing with damage to your home's roof is an unfortunate part of owning a home in North Carolina, thanks to the numerous coastal storms that bring strong winds and hail every year. However, answering questions like "who can I turn to for a roof replacement" and "where do I begin with the insurance claims process?" is much easier when you have a roofing contractor like Merritt Roofing in your corner. For more than a decade, we've bolstered the defense of Waxhaw-area homes with our reliable roof replacement service.
How to Tell if Your Home is Due for a Roof Replacement
On average, an asphalt shingle roof can last upwards of 20 years. Knowing the age of your roof can be helpful in determining when you should start thinking about a roof replacement. But what if you don't know when your existing roof was installed? Be sure to call the professionals at Merritt Roofing if:
Your shingles are buckling or curling
Your roof is missing shingles
Your roof is beginning to sag
You can see sunlight entering your home through your roof
The Right Team for Your Roof Installation
When you call on Merritt Roofing for a roof replacement, you can have confidence in your decision, as we:
Have over a decade of industry experience
Use premium asphalt shingles from Owens Corning for all of our residential roofing installations
Are an Owens Corning Platinum Preferred Contractor
Handpick and thoroughly screen our installers
Will provide guidance during the insurance claims process, if necessary
Learn More Today
To learn more about our roof replacement practices or to have one of our HAAG-certified inspectors visit your Waxhaw, NC, home and survey your roof, contact the Merritt Roofing team today. During your consultation, be sure to ask about the financing options available to qualifying homeowners.