Offering Storm Damage Restoration Services in Lesslie, SC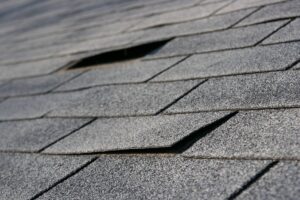 Has a storm recently caused damage to the roof on your Lesslie, South Carolina, home? If so, turn to the professionals at Merritt Roofing for professional storm damage restoration services. We offer comprehensive storm damage repair services to ensure your entire roofing system is restored to pre-storm condition so that you can enjoy a safe and reliable roof on your home once more.
Types of Storm Damage We Commonly Address
No two storms are the same, and the ways in which they can cause damage can vary as well. At Merritt Roofing, we have extensive experience addressing all types of storm damage and are highly skilled in providing the following services:
Wind damage repairs– High winds can rip shingles completely off your roof. Roof wind damage can also look like creased, curling, or crooked shingles, even if they still appear to be attached to the roof. These issues leave your home susceptible to further damage the next time it rains or another storm rolls in.
Hail damage roof repair– The impact of hail on your roof can leave damage that's not easily visible or noticeable from the ground. However, if this damage is left unaddressed, it can lead to leaks and other water damage in your attic.
Other storm damage repair – Wind-swept debris and falling tree branches that hit your roof can cause damage. After a storm, it's important to have your roof assessed for damage from these types of issues and take action if necessary to prevent further damage.
Merritt Roofing is the company you can rely on to detect any damage to your roof and provide you with the services you need to have it restored. We have a Haag-certified inspector on our team to provide comprehensive storm damage roof assessments. We also have a team of experienced roofing pros ready to provide any storm damage restoration services you need.
To get started with our storm damage restoration services, contact Merritt Roofing today. We proudly serve homeowners in and around Lesslie, SC.