Your Source for Storm Damage Restoration in Clover, SC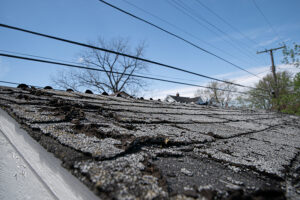 Unfortunately, recovering from a storm is an inevitable part of being a homeowner in South Carolina every now and again. One thing that you can control, however, is the company you choose to perform the restoration work on your home. In Clover and the surrounding communities, Merritt Roofing is the name homeowners trust most for storm damage restoration.
Our Storm Damage Repair Services
At Merritt Roofing, we don't partake in high-pressure sales tactics. Instead, we like to educate homeowners about our storm restoration process and help them to make informed decisions. You can partner with us for:
Wind damage repairs – The winds of a severe coastal storm can cause immense damage to a home's roof, blowing shingles loose, or in some cases, completely off. We'll perform an in-depth inspection of your roof to identify any torn, creased, or missing shingles, and recommend the appropriate storm damage repairs.
Hail damage roof repair – A hailstorm can leave your roof battered and bruised. However, not all signs of hailstorm damage are evident from the ground view. It's best to let the professionals at Merritt Roofing assess the condition of your roof during a complimentary inspection.
Roof repairs for damage caused by trees – It's not uncommon for a home to require storm damage restoration after a tree or other fallen debris has landed on its roof. Our HAAG Certified Inspectors will check for any punctures or scuffs that may lead to leaks.
Let's Restore Together
Is your Clover, SC, home in need of storm damage restoration? Don't delay in contacting the professionals at Merritt Roofing. We'll be happy to visit your home and provide you with a free roof inspection.