The No. 1 Source for Dependable Storm Damage Restoration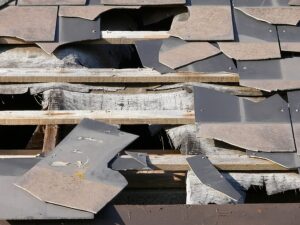 in Ballantyne, NC
Finding a company that can restore your home in a prompt and careful manner can be a difficult task, especially when you're scrambling to do so after a large storm has passed through. When you're in need of storm damage restoration for your home in Ballantyne, North Carolina, know you can confidently entrust the job to the professionals at Merritt Roofing.
Our Storm Damage Repair Services
You can rely on us to provide a wide range of storm damage restoration services, including:
Wind Damage Repair
Area homeowners are no strangers to the powerful winds that roll through the state from time to time. Our in-depth wind damage repair process begins with our experienced roofers carefully scanning your roof to identify any areas where shingles may be creased, torn, or missing altogether.
Hail Damage Repair
Storms during the spring and summer months oftentimes bring hail that can cause a great deal of damage to a home's roof, siding, and even gutters. If your home has fallen victim to hail storm damage, you can count on the trained eyes at Merritt roofing to locate all affected areas and provide an appropriate solution.
Tree Damage Repair
Heavy wind, rain, and even lightning can cause trees in the yard to uproot and fall onto a home's roof. When that happens, branches can scuff and penetrate shingles, leading to roof leaks. With a complimentary roof inspection from Merritt Roofing, you can rest easy knowing all damage will be accounted for and addressed.
Contact Us
When your Ballantyne-area home is in need of storm damage restoration, you won't regret your decision to partner with Merritt Roofing. As both a HAAG Certified inspector and an Owens Corning Platinum Preferred Contractor, our team of roofers are among the most qualified in North Carolina. Contact us today to get started.